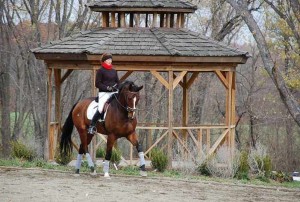 Rebecca Langwost-Barlow is a USDF Gold, Silver, and Bronze Medalist and one of the first USDF certified trainers to Fourth Level. She was a world-ranked Grand Prix rider on her self-trained Dutch gelding Gomerant. As the first recipient of the Dressage Foundation Scholarship, she trained under the renowned Olympian Dr. Reiner Klimke and Rolf Isselhorst in Germany. She also trained with Michael Klimke, Willy Arts, Conrad Schumacher, Hans Juergen Armbrose, Rudolf Zeilinger, Georg Theodorescu and is presently training with internationally acclaimed trainers: Morten Thomsen and Christoph Hess.
Becky is a USDF Certified Instructor and has a 5 Star Rider Rating. Becky is also a USDF L Judge, who graduated with distinction and just recently, was the Expert Commentator at Dressage at Devon 2017.
Becky is a frequent contributor to Dressage Today, Practical Horseman and other local publications as well as serving as a training and showing expert for many national magazines. She is featured in the book, Rhythm Riding: A Guide to Riding with Music by CeCe & Frank Maddlone.
She has started many equine youngsters and has trained and shown horses to FEI levels including Grand Prix.
In 2017, Becky and her Hanoverian mare, Libertina. were Reserve Champion in Intermediate II in both the BLM and GAIG finals. Libertina was then chosen the AHA USDF Reserve Champion for Intermediate II in the All Breeds Awards. Becky also showed Tina in their first Grand Prix ride at the BLM's and scored 65.5%. This year, Becky and Tina qualified for the finals in Kentucky.
In 2015, Becky was sidelined with a severe injury for almost a year. Becky came back and successfully showed her Oldenburg gelding, Chesapeake, in the Grand Prix before turning the reins over to her student, Alexa Briscoe, who continues showing him to this day in the FEI levels. Becky taught Alexa thru the levels on Alexa's horse, Wildfeuer, whom Becky helped train to GP, enabling Alexa to earn her gold medal.
In 2012 thru 2014, Becky and Chesapeake were the Champions in the CBLM Intermediate B and the Intermediate II in both BLM's and GAIG's finals.
In 2008, her self-trained horse Welfenstein won Reserve National Hanoverian Intermediate II Champion Horse of the Year. She trained Rhett, who in 2008 was rated the top Nationally-Bred FEI Horse; Rhett and Jim Koford received the Barlow Ramsay Grant which enableb them to train and compete in Europe with trainer Conrad Schumacher. Rebecca also broke and trained Zorba S.E., who in 2008 was the top ranked Dutch 4 year-old in the country upon winning the national DG Bar Cup.
In past years, Rebecca was an FEI rider for two USDF National Symposiums:for Dr. Reiner Klimke on the elite Hanoverian stallion Guderian and for Conrad Schumacher on the Grand Prix horse Gomerant. She and her self-trained Dutch gelding Nando continue to hold the distinction of being the only horse-rider pair to win the Prix St. George and Intermediate I in the same year at the BLM Regional Finals in Lexington, VA. These are just a few of her many accomplishments; she has taken many different horses to a large number of high-score and year-end championships at all levels over the years.
Becky teaches students of all ages and at all levels including Grand Prix. The only pre-requisite for Becky is that the student be willing to work hard and stay focused no matter their level of riding.
Becky's experiences as a leading dressage trainer, as a competitive jumper, and as a backer of babies on the race track have given her a depth and range of knowledge met by only a few.
For information on training with Becky, please contact Linda Crivella by e-mail or at 301-299-4019.