We are committed to furthering the sport of dressage by providing outstanding clinics and lessons for the community.
Our Trainers
We are pleased to have exceptional equestrians who teach at Wyndham Oaks. For more information, please click on their name.

Becky Langwost-Barlow, Senior Trainer

Rebecca Langwost-Barlow is a USDF Gold, Silver, and Bronze Medalist and one of the first USDF certified trainers to Fourth Level. She was a world-ranked Grand Prix rider on her self-trained Dutch gelding Gomerant. As the first recipient of the Dressage Foundation Scholarship, she trained under the renowned Olympian Dr. Reiner Klimke and Rolf Isselhorst in Germany.
Becky's experiences as a leading dressage trainer, as a competitive jumper, and as a backer of babies on the race track have given her a depth and range of knowledge met by only a few.Becky normally teaches at the farm the beginning of each week.
For information on training with Becky, please contact Linda Crivella by e-mail or at 301-299-4019.
Jaralyn Finn, Senior Trainer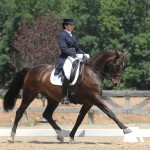 Jaralyn Finn is an FEI trainer and competitor, a USDF "L" judging graduate with distinction. She has her USDF Gold, Silver and Bronze Medals. Jaralyn uses a systematic approach to developing horses and riders, based on the training scale of classical dressage. Her clients include adults and juniors riding at Training level to FEI.
Jaralyn has worked extensively in the last ten years with Conrad Schumacher and Bill Warren, regularly hosting clinics with both. Upon moving to Maryland, Jaralyn benefited greatly from training with USEF Young Dressage Horse coach Scott Hassler. Jaralyn teaches throughout the week at the farm however her availability is often limited by her show schedule.
For more information about training with Jaralyn visit her website www.finessedressage.com.
Molly Xanthopoulos, Resident Trainer
Wyndham Oaks is especially pleased to introduce our new resident trainer, Molly Xanthopoulos. Molly moved to the farm with her horses from Ohio and now calls Boyds her home.
Molly is a USDF Bronze, Silver, and Gold medalist as well as a graduate of the North
American Young Riders' Program. Her riding experience has led her to numerous
training opportunities in Europe with Karl Prinz von Auersperg, Gunnar Ostergaard, and
Ulla Salzgeber. Molly has continued her education through regular training with Scott Hassler and other world-renowned clinicians such as Debbie McDonald and Michael Klimke.
Molly's training program is based on exceptional horsemanship and a solid foundation
of dressage training.She is available throughout the week for everything from individual lessons to full training.
To reach Molly, visit her website at www.xanthopoulos.org or call her at 937-903-3827.