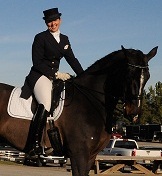 Jaralyn is FEI trainer and competitor, a USDF 'L' graduate and recently completed the USEF 'r' training program. She has her USDF Gold, Silver and Bronze Medals and Gold Bar for Musical Freestyles and in 2017 earned her CenterlineScores.com 5-star rating. Jaralyn operates her training and sales business, Finesse Dressage LLC, in Maryland from May-December and White Fences, near Wellington, FL from December – May.
Jaralyn believes in a systematic approach to developing horses and riders, based on the training scale of classical dressage. Her clients include riders and horses of all ages and levels. She is available for lessons at Wyndham Oaks, most reliably Tuesdays-Thursdays due to showing and judging commitments on the weekends.
"Team Finesse" typically participates in 8-10 licensed shows and one or two schooling shows per season. Jaralyn is very proud to have had over 20 students earn their USDF Bronze, Silver or Gold medals while in training with Finesse Dressage. Each year, Finesse Dressage has several horses qualified and competing at Regional Championships, and has had several clients and horses compete at USDF National Finals in Kentucky. You can find all of Jaralyn's scores and show records here.
Jaralyn is a firm believer in continuing her own education and has worked extensively in the last 15 years with German Master Trainer and international coach Conrad Schumacher, former USEF Young Dressage Horse coach Scott Hassler, and FEI*** judge William Warren. She hosts 4-6 clinics/year with these trainers which are open to her clients and the local community.
Jaralyn is currently competing two of her own Grand Prix horses, Le Herbert and Sanford as well as several horses for clients. In August of 2017, Jaralyn and her horse Sanford were the East Coast Riders Cup Champions at Grand Prix, with a two-day combined average score of 66.2%, at the Centerline Events HITS on the Hudson horse show.
For more information about training with Jaralyn, her rates and availability visit her website www.finessedressage.com or email her at Jaralyn@finessedressage.com or text 301-332-3428.