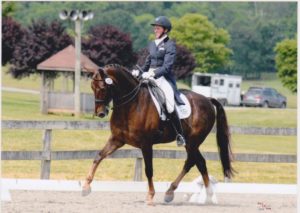 Molly Xanthopoulos' career has been enriched by a great journey in horsemanship. Her interest in the sport of dressage began in Houston, Texas where she quickly earned her USDF Bronze and Silver medals as a junior rider. Molly competed at the North American Young Rider Championships four times, and in 1991, helped her Region 2 team win the gold medal. That year she was also awarded the prestigious Captain Andrew DeSzinay Sportsmanship Award that recognizes the rider who exhibits integrity, sportsmanship, honor, courage, team spirit, good temper and unselfishness.
Molly's riding education includes many years spent training in Europe at Reiterhof Moos in Salzburg, Austria as well as the breeding and training facility, Gestut Moosmuhle, in Weilheim, Germany. She was given the opportunity to work under Gunnar Ostergaard at his Deerwood Farm in Vermont and in Copenhagen, Denmark.
After achieving a solid foundation in horse training, Molly developed her dressage training business in 1994 out of her own North Star Farm in Xenia, Ohio. Her business grew into a successful home for horses and riders of all stages of training and diverse disciplines. Molly has started many horses under saddle and completed their education through Grand Prix. While training at her own farm, Molly earned her USDF Gold medal on a horse she imported as a three year old and trained herself. Her accomplishments include USDF Horse of the Year awards as well as Regional Championship awards. North Star Farm provided Molly with the hands-on experience managing a horse farm and training top competition athletes.
Molly's pursuit of excellence in dressage led her to pursue several special training opportunities. In 2005-2006, Molly took a year to intensively train in Bad Worishofen, Germany with Olympic Champion, Ulla Salzgeber. Her riding and showing was supported back in the US by Scott Hassler. Additionally, Molly participated in the Young Dressage Horse Trainer's Symposium at Riveredge for 9 years. Over the course of her riding career Molly has sought instruction from world renowned riders such as Nicole Uphoff, Debbie McDonald, Michael Klimke, and Ingo Pape.
In 2012, Molly decided to move her family and business to the East Coast and now calls the beautiful Wyndham Oaks in Boyds, Maryland home. As the resident trainer, Molly accepts horses in training programs as well as teaches lessons to students of all levels of training and multiple disciplines. Molly competes on her own horses as well as those of her clients at recognized shows all over Region 1 and receives continued support in her training and showing from Silva Martin. Molly can be reached by phone at 937/903.3827 or email at mollyx@xanthopoulos.org.